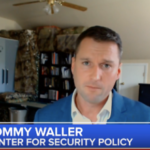 Center VP for Special Projects Tommy Waller discusses Venezuela's failing power grid and the importance of America securing its own grid and eschewing socialism.
Continue Reading

→
THE AMERICAS REPORT

NANCY MENGES and

LUIS FLEISCHMAN, Editors

The Americas Report is the featured product of the Center for Security Policy's Menges Hemispheric Security Project. It features in-depth, original articles on subjects not regularly covered by the American press.

Search The Americas Report

An error has occurred, which probably means the feed is down. Try again later.